11 Stunning Arizona Hiking Spots You Need To See To Believe
|
4. Havasu Falls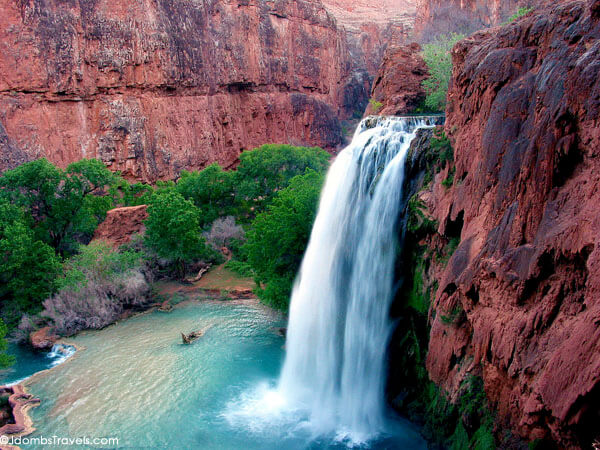 Photo credits: JdombsTravels.com
You've seen all the amazing pictures of this waterfall but you can be sure that it's just as amazing in person. These falls are within the Havasupai Indian Reserve and you need a permit there for hiking. Make sure you get it there beforehand. Check this guide out before heading there.
3. North Coyote Buttes and The Wave, Vermillion Cliffs Widerness Area
This hike is located 3 hours away from Flagstaff and is roughly 6 miles round trip. Everyone knows where this park is located but only 20 permits are handed out daily. Reservations need to made months in advance.
Please use extreme caution when hiking here as it is exposed to deep sand and route-finding is required. Use a good guiding service and requires a permit which can be obtained 4 months in advance.
2. Camelback Mountain
Photo credits: visitphoenix.com
If you've been to Phoenix you've certainly seen this mountain. It's roughly 1.2 miles and the elevation is roughly 1,264 feet. The hike is for advanced hikers and the best time to hike it is early in the morning. It takes around 2 hours to get there so make sure you plan to have ample time.
1. Tonto Natural Bridge, Tonto National Forest
Photo credits: Austin Gruenweller/Flickr
This hike is the best bang for the buck. It's super short and you can bring the kids to see one of the largest travertine bridges. The bridge is well maintained but there are some slippery rocks so be careful!